78 RPM Records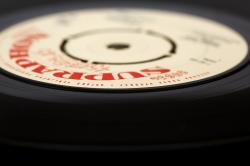 We have an interesting selection of used 78 rpm records available for sale.
Please visit the How to Order page to place an order.
Columns in the Table
Id: Our internal product identification number.
Artist: The artist who recorded the record.
Label: The label of the company that produced the record.
Condition: The condition of the record. One * means poor. Four *'s means excellent.
Face 1 Details: The details of face 1.
Face 2 Details: The details of face 2.
Orchestra: The orchestra.
More: More information.
Price: The price of the record, in Canadian dollars, not including shipping.
Photo: A "yes" in this column can be clicked to view a photograph of the jacket.
780001
Champ Butler
Columbia C1724
There'll be mournin' in the morning
I apologize
Skippy Martin orchestra
3.00
780002
Edmund Ross
London 1152
Say "si, Si" rumba
They say the woman always pays
Edmund Ros orchestra
3.00
780003
Rosemary Clooney
Columbia C2516
The ole house
Hey There
Buddy Cole orchestra
from "the pajama game"
3.00
780004
Frankie Yankovic
Columbia C1244
Charlie was a boxer
Blue skirt waltz
with the Yanks
with the Marlin sisters
5.00
780005
David Carroll
Mercury 70444
In a little Spanish town
Bumpty bump
David Carroll orchestra
3.00
780006
Arly Nelson
SRC 112
Banjo galop
Mandola waltz
with the Tune Toppers
4.00
780007
Sammy Kaye
Columbia C1785
Would I mind?
Del rio
Swing and sway
4.00
780008
Barber Shop Favorites
Family Library 1014
.
1-Oh How I miss you tonight. 2-Sweet Genevive 3-I wonder how the old folks are a
1-She's only a bird in a gilded cage 2-Down in the old cherry orchard 3-While st
.
The Melody men
5.00
780009
Franki Carle
Columbia C852
We could make such beautiful music
Too many times
Frankie Carle orchestra
foxtrot with vocal Marjorie Hughes
4.00
780010
Red Foley
Decca 29526
Satisfied mind
How about me
with Betty Foley
3.00
780011
George Beverley Shea
Singspiration 3002
The unveiled Christ
Lead me gently home
Bass barytone
3.00
780012
Buddy Clark
Columbia C1385
A dreamer's holiday
Envy
Ted Dale orchestra
with the Girl Friends
4.00
780013
Freddie Hart
Columbia C21512
Dig boy, dig
Two of a kind
3.00
780014
Frederick Gunther
Columbia A898
Forging the anchor
The diver
Bass
5.00
780015
The Carlisles
Mercury 70028
This heart is not for sale
No help wanted
4.00
780016
Georgia Gibbs
Mercury 70517
You're wrong, all wrong
Tweedle dee
5.00
780017
George Beverley Shea
Singspiration 3001
The ninety and nine
Sunshine
bass barytone
3.00
780018
Bing Crosby
Decca 28511
Keep it a secret
Sleigh Bell serenade
John Scott Trotter orchestra
4.00
780019
Geschwiister Wrinkler Quartet
London 18008
O land am Bodensee
Fliege mit mir in die heimat
with orchestra
in German
3.00
780020
Einar Eksberg
Sacred songs M34
The Theme of my song
In my father's home
Barytone
3.00