All links on this page open in a single, separate browser window.
The Sunshine Coast
We are located in Halfmoon Bay on the beautiful Sunshine Coast of British Columbia.
The Sunshine Coast is just north of Vancouver. Although it is on the mainland, it is not accessible by road. Most visitors travel here on BC Ferries, departing from Horseshoe Bay in West Vancouver and landing in Langdale. The ferry travels up Howe Sound, an exceptionally scenic location in itself. You can also travel here by air.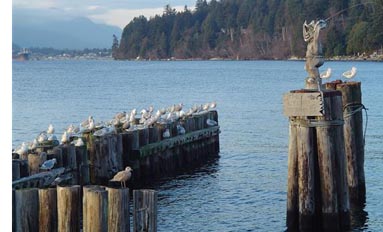 "Fishing Lesson" in Davis Bay
The Sunshine Coast offers a variety of activities for the visitor: